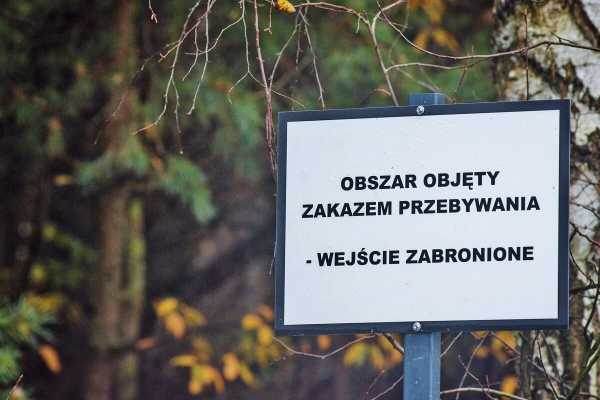 The media reported that a 48-year-old woman from Silesia had been charged with leading a criminal group involved in organising the illegal crossing of the Polish-Belarusian border. The HFHR and the Szpila Collective provide legal assistance to the woman.
According to the information obtained by the HFHR, the woman was involved in providing humanitarian assistance at the Polish-Belarusian border, which is sufficient for us to decide to provide her with legal aid. For two years now, the HFHR and the Szpila Collective have been providing anti-repression assistance to all those providing humanitarian, medical and legal aid on the border with Belarus. In our experience so far, these people, regardless of whether they work in the structures of NGOs or independently, are exposed to repression from law enforcement agencies. Meanwhile, the HFHR maintains that in the face of documented significant human rights violations occurring at the border, assisting persons crossing the border to seek protection in Poland is not only legal but also morally right and should not be punished.
Previous cases prove that the authorities misuse the criminal procedure to repress those involved in humanitarian aid at the border. Examples of such cases were the overnight search of the Crisis Intervention Point and the detention of the Club of Catholic Intelligentsia volunteer, or criminal charges against a family member who came to the border to rescue his sister and her children. In both cases, the courts found no grounds for the punishment of the defendants and stressed that acting in the name of humanitarian motives could not be considered a crime.
When assessing the situation of the detained woman, it is important to avoid relying solely on the charges filed by the prosecutor's office. The ruling majority in the Parliament has long been building an anti-refugee narrative, targeting, among others, people crossing the Polish-Belarusian border. Public statements also vilify those providing assistance to them, accusing them of acting in line with the Russian and Belarusian narrative. A member of this political camp is the Minister of Justice, who is also the Prosecutor General and oversees prosecutors. Hence, the allegations against those acting at the border should be treated with great caution.
We would like to emphasise that the media coverage only represents the version given by the prosecution and the authorities in this case. The woman's defenders are bound by Article 241 of the Criminal Code, which prohibits the disclosure of material from the investigation before the case goes to court. The woman did not admit to the alleged acts and provided explanations indicating a different course of events. It is worth noting that the presentation of charges by the prosecutor's office, and even provisional arrest, does not prejudge guilt. This will ultimately be decided by the court after the entire proceedings. At the request of the HFPC and the Szpila Collective, the woman is represented by advocates Karolina Gierdal and Jerzy Podgórski.
On behalf of the Board of the HFPC,
Maciej Nowicki
President of the Board